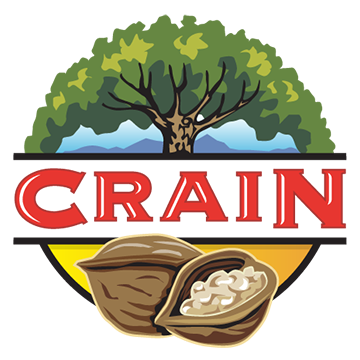 About Us
Crain Walnut Shelling, LP's (CWS) primary business is the processing, packing and shipping of English Walnut meats. The business was founded in 1982 by Charles R. Crain, Jr. (Chuck), as a division of a large farming business, Crain Orchards, Inc.
About Us
Our Story
Chuck's depth of knowledge and understanding of walnuts are rooted in his rural Northern California upbringing. This is where he began working for his parents, Alice and Charles Crain, Sr., who along with his brothers, William and Harold own and operate Crain Ranch, dba Crain Marketing, Inc. Crain Ranch is an extremely advanced in-shell walnut processing facility, which enjoys world-wide brand recognition for its bleached and naturally processed Hartley, Howard and Chandler variety in-shell walnuts.
The Crain family comprises one of the largest growers and processors of English Walnuts in California, and has been actively involved in the industry for over 50 years. Their strong family values and philosophy for self-financed growth have resulted in a well- capitalized structure with low overhead costs. Between strategic financial planning, high efficiency, state-of-the-art processing and packing facilities, and a supply base delivering from over 500 independent walnut growers, CWS is able to provide the best valued quality products.
Our commitment to continued improvement is illustrated by our ability to meet or exceed the stringent criteria of the globally recognized food safety initiatives. CWS has been BRC certified under Food Category, Issue 6 - Grade A since 2012 and is pleased to announce its recent re-certification under Issue 7 – Grade AA. Additionally, CWS has achieved accreditation as a Non-GMO Verified and Sustainably Grown Certified facility. This direction and focus has allowed for the expansion of quality markets and the development of fluid distribution channels which have created the solid foundation of CWS's diversified customer base.
As the leading industrial ingredient supplier of English Walnuts in California, CWS is able to offer a broad spectrum of quality shelled walnut products. Our valued customers range from retail grocery store chains to large regional bakers, bakery supply distributors, ice cream manufacturers, cereal makers, multi-national food manufacturers, club and big box stores.
Recognized across the globe, the "Red" Crain of California brand is synonymous with high quality standards. Servicing all major export markets, CWS has a well-established logistics team available to assist with your company's shipment needs.
Crain Walnut Shelling, LP welcomes the opportunity to become your premium shelled walnut supplier. For more information on walnut sales, please click here.